Gifting has become a major part of the festive holiday season. Gifts develop a healthy and loving relationship. Giving something willingly, expresses your interest in the person and shows appreciation of their presence and gratitude, Gifting is an emotion one cannot do without. Christmas. It is a global festivals are days when we show just how much we love and care for each other. The excitement of giving and receiving gifts surpasses any other.
Its the season to provide your loved ones with lasting memories! And what can be a better way to do that than a handmade portrait gift commemorating the love of recent newlyweds, grandparents with their grandchildren, or your daughter's beloved dog? We here at PortraitFlip make that job super easy!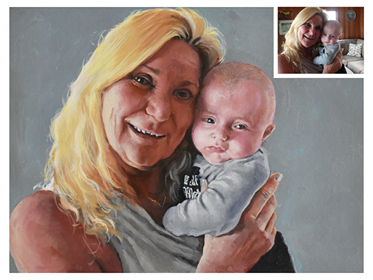 Granny holding her grandchild in her arms is one of the most beautiful sight in the world. The love she bestows upon the kids is immeasurable and certainly of the purest kind. Why not surprise your Grandmother, by recreating one of the stills from the long lost golden days into a beautiful piece of handmade art?
What a great idea would it be to gift these moments again to your family? Rather than cliched gifts life chocolates, greeting cards etc, a personalised gift is much more touching and makes your family feel special. All these good memories constitute a part of our good lives. We can't be thankful enough for them. The people we share these good times with, definitely hold a very special place in our hearts. Those instants well etched in our minds are to be cherished forever. They are a source of such positivity in our lives which cannot be done without.
What could be a better gift to a pet lover than a portrait of his or her loving pet!! A very beautiful way to do that is to create a hand-painted pet memorial custom portrait to cherish and honor your pet. This portrait can be made from any photo of them with your pet, running in the park or any other special moment they both shared together. This portrait will always remind you about what once was, and will always be an intangible bond of love.
Be it any kind of pet, in any surrounding, you name it and PortraitFlip expresses all those emotions through colours.
A place where you and siblings grew holds a very special place in your heart. The warmth of the arena is forever felt by you. Why not gift a vivid memory of the place to them, to cherish forever?
Abstract art is one of the best way to channelise the energy within one. What one feels cannot be better expressed than in the form of art.
You are notified via email when the painting starts. After the completion of the painting, its sent to the customer for approval. If the customer require any revision, we welcome the suggestions wholeheartedly. The product is not shipped until the customer is completely satisfied.
Travel memories are the best souvenir one can take back along. That feeling of being lost but in a perfect place with a perfect bunch of favourite people cannot match any other pleasure in the world. How about cherishing these memories lifetime in a physical form? Wouldn't it be magical? Yes friends, PortraitFlip provides you the opportunity to frame the memories forever.
The tranquility of the landscape can be well brought out and expressed in the form of a beautiful art. Landscape paintings offered by PortraitFlip helps you get them as a part of the decorations to your walls.