GIFTS
7 Unique Valentine's Day Gifts For A Husband
As Valentine's Day is fast approaching, many women find it difficult to choose gifts for their husbands. It is quite important to know more about the interests, likes, and other things of a husband before buying a suitable gift for them. Nowadays, different types of gift products come in various styles and designs allowing a person to create certain impressions on a recipient. On the other hand, It is really hard to pick the right gifts for Valentine's Day and sometimes one requires certain tips.
So kick back and relax while you go through our list of gifts which are perfect for your husband depending on his taste and personality.
You may also like: 7 Thoughtful Gifts that Your Girlfriend will Love Receiving on Her Birthday
1. Natural skin care gift
This gift set comes with a skin care products for men that contain natural ingredients. Another thing is that it gives for maintaining skin in a good condition.
2. Travel toolkit
A travel toolkit is one of the best valentine's gifts for a husband allowing him to perform certain tasks with ease. Moreover, one can order the product and other materials online which exactly suits the travel purposes. One such great multitool is a swiss army knife from Victorinox which is available in different designs and colors.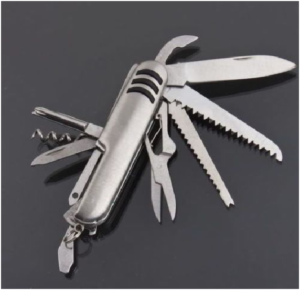 3. Jon Snow Funko Pop Figure
This gift is a must if your husband is a Game Of Thrones fan. Afterall, It's Jon Snow in the form of a pop funko figurine. This gift works perfectly on one's desk or shelf, The amount of attention to detail in this small little product is really impressive.
4. Waterproof backpack
It is mainly designed for a husband who loves adventurous activities. A waterproof backpack is a perfect choice for valentine's gifts so that you guys can go on hiking trips together and gain new experiences.
5. A Personalised Photo Caricature
A personalized photo caricature allows a wife to express her feeling and sentiments with unique messages. Apart from that, it serves as a memorable gift for a husband which can be easily kept by the bedside or on a desk.
6. Tablet Pillow
Is your husband always glued to his iPad? Then, This is the perfect gift for him. Using this pillow/iPad stand one can easily access and view the tablet from different angles. It's a perfect little gift for techie husbands.
7. Comfy wool socks
These wool socks can make a husband feel comfortable in the winter season. Besides that, one can order them online easily at affordable prices. There's nothing more relaxing than sipping tea and sitting by the fireplace with comfy socks in the winters.
It is an important one to know more about the preferences and likes before buying valentine gifts for your husband. This will help a lot in getting appreciation from him immediately after presenting them. In addition, These days everything is available from a click on your phone at affordable prices.
Recommended for you: Bring a Smile to Your Loved One's Face with A Simple Gesture of Gifting Flowers!