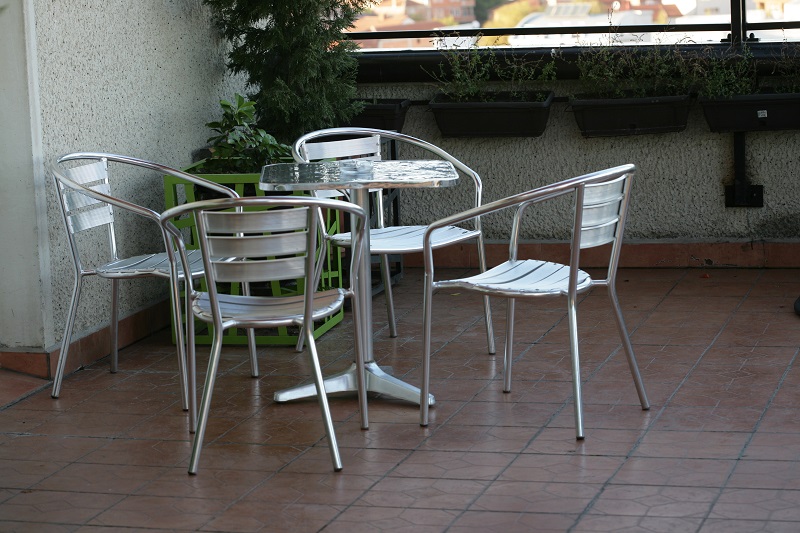 People usually find wooden furniture to be heavy and difficult to maintain. Possibility of termites eating into your invested money and reputation is high with regards to wooden furniture. As wooden furniture is losing its sheen, aluminum is fast becoming the favorite of all customers. Given their sturdiness and light weight, aluminum outdoor furniture is the new leader of the industry. If you are looking forward to displaying your opulence and style to your neighbors around, then you can install some aluminum furniture at your outdoor areas. Wooden furniture can get affected by moisture, humidity level and sun's ray. But aluminum outdoor furniture is rust proof and they cannot get affected by bad weather conditions. Apart from that, they are lightweight and durable. You can easily shift them from one place to another and change the overall look of your garden or patio area.
Benefits of aluminum outdoor furniture
The advantages of aluminum furniture over its wooden counterparts can be seen clearly in the following aspects.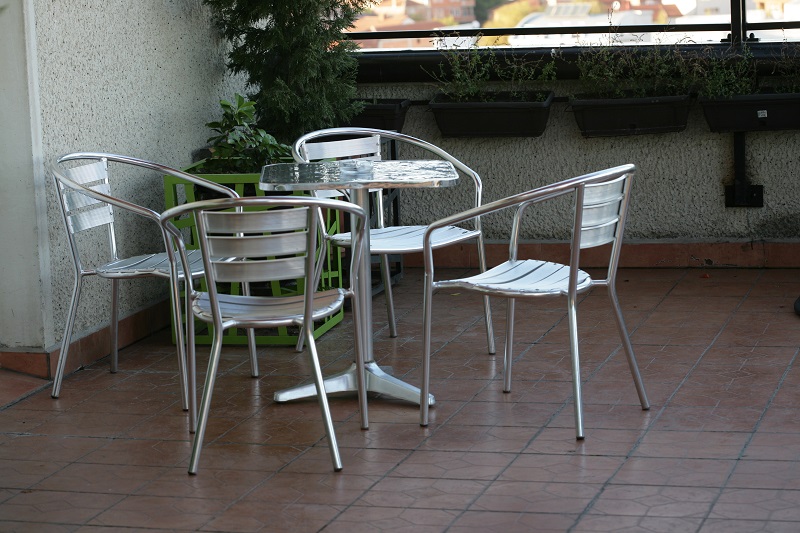 1. Lightweight
The aluminum furniture is quite lightweight. Aluminum is anyways known to be one of the lightest metals. Just imagine yourself pulling a heavy piece of wooden furniture across the room to change the interior décor. Wooden furniture has always been found to be a deterrent against customizing interior decor. And this is exactly where aluminum furniture helps. Being lightweight, aluminum outdoor furniture is easy to place outdoors, since you can easily shift them during rains.
2. Durable
The aluminum furniture is quite reliable in its durability and construction. There was a time when iron furniture used to be considered equally sturdy and lightweight. But iron can rust, while this is not the case with aluminum. This gives aluminum furniture quite a longer life as compared to iron furniture. Precipitation and humidity cannot create troubles for you anymore.
3. Minimal maintenance
The aluminum outdoor furniture need not be looked after too much. Very little upkeep is required for aluminum products, and you can find numerous contours, colors, and textures along with attractive cushion designs. If you want the highest value for your invested money, then you should not look for a substitute to aluminum furniture. If you sell your property in near future, then you will get decent amounts for your outdoor aluminum furniture. They will increase your property value and you can easily maintain them by normal way.
Kinds of aluminum outdoor furniture
If you are wondering where you can place your aluminum outdoor furniture, then let us help you with some ideas where aluminum furniture can add to elegance of the outdoor places.
1. Garden aluminum set
Your gardens are the best places for rejuvenation and sharing some light moments with your loved ones. And when it comes to enjoying under the sun in your lawns, aluminum furniture will come handy. Such chairs are quite light and can be shifted easily from one place to another in the gardens, depending on how much sunlight you want to bask in.
2. Terrace furniture
Aluminum is the best material to be used for furniture meant for terraces. Having a good time with your family while enjoying the slow cool winds and adoring the nature is best possible with use of aluminum outdoor furniture. You can also conduct some small party in your lawn and garden areas, and you can easily arrange the seats for your guests with the aluminum outdoor furniture.
3. Outdoor dining furniture
The dining set in many homes and bungalows are made of aluminum and this makes the dining experience quite ambient. Aluminum furniture are becoming popular at restaurants as well because people can easily clean and maintain them.
Today, you can also buy the aluminum outdoor furniture from online portals and you can also contact with the manufacturers of these furniture to customize your outdoor furniture.