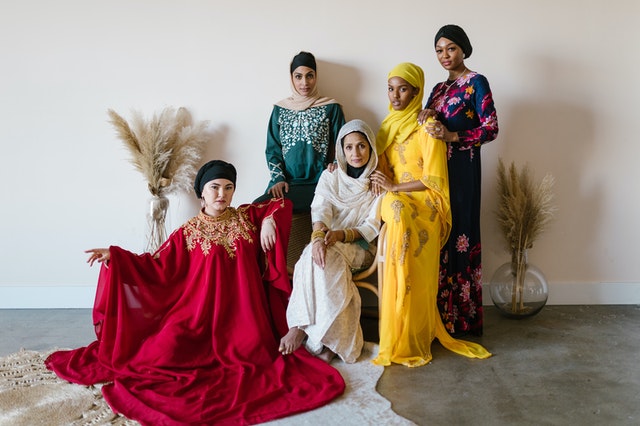 The art of chikankari is usually regarded as elegant. The embroidery's versatility comes from the fact that it may easily be altered for both ceremonial and informal use. These may be worn to weddings and events while also adding to your casual look. The exquisite embroidery is subtle yet sumptuous, and it can effortlessly accompany you from morning to evening. So don't worry if you're stumped as to what to wear to your best friend's wedding, and you have a Chikankari suit stashed away in the wardrobe. Without a doubt, you're going to slay it. Are you curious as to how? Continue reading.
Chikankari suit with a show stopper dupatta –
Though most of the Chikankari suits comes in light pastel or very neutral colours, but it doesn't matter in which shade you have them. If you wear it with a colourful or very elegant styled dupatta, you are going to rock the party for sure. Wear a nice matching mule with it and carry a complementing sling bag. Next, you can wear those heavy jhumkas with the shade matching your dupatta and look like the perfect bridesmaid of the event.
Floral chikankari suit in wonderful shades –
A bride's best friend looks stunning in pastel flowery attire, and this is straight out of our fantasies. You should buy a new Chikankari outfit that can be dressed with various pants and dupattas and worn for such glorious events. Lightweight Chikankari outfits with gorgeous florals and patterns work nicely for day weddings, and adding them to your party collection will be a wise investment. For the occasion, pair your flowery ensemble with contrasting long earrings, jute flats, and a beautiful boho purse.
The all-rounder one-shaded Chikankari suit –
Creating a minimalist sign with a single shaded Chikankari suit looks totally perfect for a formal wedding. You can accompany your best friend to her wedding with an all-red Chikankari kameez with similar colored work over it and even the bottom and dupatta being of this exact shade. Next, you just require a delicate pearl necklace and earrings over it to display an elegant style at your best friend's wedding. Wear a sexy pair of heels over it and match your clutch with the jewelry, too, with a sober watch and a bracelet. We assure you that compliments will come from all over when you are dressed like this!
Chikankari suit with added work over it –
If you want a more classic and royal-looking dress as a bridesmaid wearing the Chikankari suit, try getting some added work done over the traditional fabric. You can opt for detailing it with mirror patterns or simply use zardozi style work over it and so on. With these, wear an equally royal-looking jewelry set and traditional styled mojris or just to complete the perfect party look.
The thing with Chikankari is that it can be dressed and worn in so many different ways that no two of these ensembles are similar. Chikankari embroidery adds a touch of class to any ethnic ensemble. It is an element that will never go out of style, whether it's on a dupatta or a choli. As a result, this design is always in vogue and is the most popular choice for wedding apparel. So, get ready to turn your attention to your best friend's wedding by styling yourself in it!