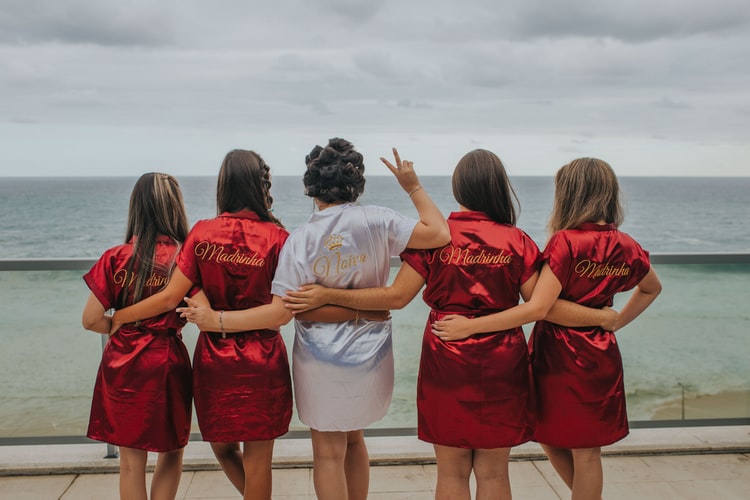 Are you counting days before the end of this year? Planning for your big day can genuinely be hectic, stressful, and hopeful at the same time. Getting everything in order, especially with the limited time and resources, can give you sleep nights.
From the wedding décor to the outfits, things might seem working out. However, this is just normal to keep your heads up and focused.
One of the biggest hurdles you can encounter is dressing your maids. This article is going to guide you through the top 5 new bridesmaid dress trends for 2019:
#1. One Shoulder Dresses
If there is a trendy design that's rocking 2019's weddings, then it's the one-shoulder dresses. From American and Europe to Africa and Asia, people can't get enough of this fashion trend. With a sophisticated design, the one-shoulder is a mixture of splendor and elegance.
Portraying a chic and versatile choice for the bridesmaids, these dresses fit almost any wedding event. They are designed in an asymmetrical neckline that reveals the shoulders perfectly. One-shoulder dresses create visual interest while providing better support to show off some skin.
If you are planning to have a wedding in 2019, this is the trendiest design to go for. You aren't ready for the statement your bridesmaids will make.
#2. Wrap Dresses
The bridesmaid scene is punctuated by wrap dresses which have since become mainstream. Known for being classy, comfortable, and ideal for special occasions, they can be an excellent addition for your team. Although they were not considered for bridal matters, they are currently on top of the list of options.
Some wrap dresses might come up with flattering shapes but are mostly comfortable to wear. This style allows the maids to dance, dine, and engage in photography without much hustle.
This dressing code is timeless and versatile, and many people love the fact that they are universally flattering. You can look for a wrap dress with dreamy pastel hues or long sleeves with glorious movement. If need be, you can customize the dresses to have different colors and designs to fit your occasion.
#3. Lace Dresses
Lace Dresses are the new bridesmaids' favorite in 2019. With its romantic fabric creating an eye-catching perception, this dress has become the favorite among many designers. If you are having the wedding in the summer or spring, look no more than lace dresses.
Lace dresses portray an ultra-feminine look with a great, beautiful fit. An intricate lace detailing adds some personality and texture to your attire. A mismatched lace trend makes these dresses look funnier and more welcoming.
You can decide to give your girls a unique bridal look with these lace dresses rather than the conventional ones. Most of them have a pearl effect embellishments and exceptional finishing. Get the perfect sizes, and fitting won't be any problematic.
#4. Tea Length Dresses
If your big day is approaching, you can make your bridesmaids glow with this elegant silhouettes. There are many designs for tea-length dresses that you can choose from.
Embroidered in golden meshes, these dresses boast elegant and ethereal period details to provide a luxurious style. The long forms drop powerful statements while laying out flattery figures.
#5. Luxe Bridesmaids Dresses
This is a new 2019 trend that's all about attitude than specific colors and shapes. A lot of bridesmaids have donned these elegant and luxurious dresses and glowed perfectly well.
Usually long and subtle, luxe bridesmaids' dresses make your dreams come true. All you need to do is look for the best designer with some artistic vision.
Guide to Choosing the Best Bridesmaids Dress Trends
There are many options that Azazie offers, but settling down can be a problem. This guide will get you the best dress trend for your bridesmaids;
#1. Wedding Theme
When choosing your bridesmaid dresses, be keen on the wedding theme. It is the theme that determines the dressing code and not vice versa. The dressing code should incorporate contemporary colors that don't corrupt the theme.
#2. Right Fit
There is no point in choosing dresses that don't fit your bridesmaids. You should ensure that everything falls in place from color and embroidery to measurements.
Let your bridesmaids fit their dresses at the designer shops. This way, you will avoid wasting money and having dull looking photography.
#3. Select a Dress Shade
When choosing your dresses, you should know to play with shades. Let the season and venue of the wedding help you when choosing the dress shade. Light shades are ideal for the winter and summer, while vibrant colors are a perfect fit for winter and fall.
The Bottom Line
These are just some of the ideas to help you plan for your 2019 wedding. If you put the above tips into consideration, you won't have anything short of a fantastic wedding.