Birthday is always the special day for the person celebrating and their friends and family. So to make the day more special the gifts should also be unique and distinct.
1. A birthday special hamper for him
While choosing for a gift for a guy be it your brother, your husband or even your boyfriend it is quite a challenge to choose. But now with various choices available online it is easy.
So this birthday gift him something which would add up to his fashion with some accessories. A birthday special hamper would consist of a pure leather belt, a wallet, a male perfume and a lovely table top for various usage. This is the best birthday gift idea for him.
2. An adjustable bag
Travel is always on the cards for guys so this year on his birthday gift him the travel accessory. An adjustable bag which would make his travel much easier and weight free.
The adjustable bag converts into three different sizes according to the need, and this would make travelling much easier for him. If the luggage is more than the bag can be broadened and when it is light luggage then this convertible bag would become smaller making it quite handy to carry.
3. Beer caddy with bottle opener
Drinking and men are like brothers, so this birthday gift him the ultimate drinking accessory. The beer caddy with a bottle opener which would make his beer drinking much more fun and adventurous.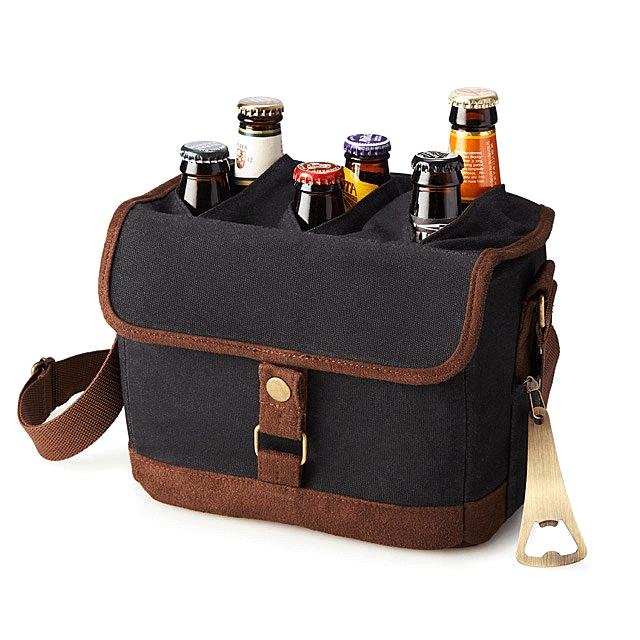 This stylish crafter bag would be the ideal gift for him. With six beer bottle inbuilt pouches made for the easy access of the beer bottles without the fear of getting broken. The wooden and stylish bottle opener would be hanged on the side of the bag.
This stylish bag would always remind him of your love and make all his travelling and drinking sessions much more fun and adventurous.
4. Portable table tennis set
Table tennis is a common sports which guys love to play in their off times. Be a college student or a working executive, this one game is a favorite of all.
So this birthday gift him with the ultimate gift of a portable table tennis set which he can use anywhere he wants. Nbe it in the office in the lunch break or while on tripe with his friends or even at hope playing with the family members.
This set comes in with two table tennis rackets and extra balls so now he can have a small match at home or even in office with this easily accessible portable table tennis racket set.
5. Color changing touch speaker
For better and more clarified music this birthday gift him the new age enhanced technology wrapped the color changing touch speaker. This is a portable speaker which is used through the bluetooth connectivity and the radiant color helps it to glow in the dark.
He would surely love this gift as this would help him to hear loud and clear music through his smartphone, music system, laptop and even portable music system. It is enhanced with the modern technology so has all the amenities to go with the new age style.
6. Wooden wine glasses
Wine should always be enjoyed with class and style. So on his birthday why not gift him a set of classic wooden wine glasses in a pair of two. This would make his wine drinking much more classy and romantic.
If you are gifting it to your husband or boyfriend then this would be an ultimate gift for you both as you can enjoy the wine together in these glasses. If you are gifting it to a male friend then he can enjoy wine with his better half. So make it sure that the wine sessions for him should be blast after the gift.
7. A knee station laptop table
Working on laptops are a very usual scene today, be it at home or office. Specifically when one is at home working on a laptop sitting on bed, it becomes quite challenging to keep the laptop straight on the bed.
So this birthday gift the knee station laptop table which would help him in holding the laptop straight on his knees wherever he is sitting and working. It may be while travelling in a train or in the airplane and specially when at home or in a hotel.
I hope you liked above gift ideas for guys. Also get some more birthday gift ideas on Birthday Inspire.