Two souls being bound together for eternity, the occasion has to be a lavish affair!After all,the beginnings of something as extraordinary, demandsmagic imbued in all its hues. The maddening gamut of activities, with people enjoining from across the world, makes desi weddings something of a vibrant shindig. Memories are created and so are excuses to indulge in flashy.
But, the complex equation of an Indian wedding combines emotions and energy in a way that can leave you jaded. In such a scenario, how to look your striking self? The answer may be found in the jewellery you settle on. Even though it is one of the most under-rated categories falling under wedding preparation due to the entire hubbub, it can enhance your look considerably.
With a range of options to take your pick from- jadau-polki, kundan, gold and so much more-you would be spoilt for choices. Just the grandeur of the jewellery can make you stand out! Speaking from personal experience, nothing beats the charm of good old gold. Especially for us in India, the magnificence is too appealing to resist. And, so it comes as no surprise that those satlakkhas and chandbaalis belonging to our grandmothers, passed on through generations, do not fail to captivate us. To add on, there is always a fascinating story attached to these heirlooms that are timeless in their narrative.
While few can go for this luxury, not all of us are lucky enough to have such jewellery handy. Despair not, for there are jewellers like Hazoorilal Legacy crafting exquisite pieces, at par and beyond grandma's treasured collection. The latest collection of gold jewellery will give capture your heart in a single glance.
Read on to find out how your look can set you apart from the crowd with these different jewellery pieces:
Chaandbaalis: These are absolute stunners. From simple to studded and from metallic to enamelled, you find a whole range of these earrings, one for every occasion that can be thought of. Some of the most timeless pieces are those in 22k gold set with precious gemstones. Traditional gold jhumkas never go out of fashion and are a classic piece to go with any outfit.
Hathphool: A stellar collection is available in the markets for the bride to enhance her elegance with contemporary charm. A slave bracelet or a double finger ring can amplify the grace instantly and the dazzle makes it a must have for any collection. It is sure to make heads turn. Moreover, you can wear these statement pieces on any occasion, without looking over or under-dressed.
Nathni: From MaharashtianNathnis to KumaoniNathnis, you can take your pick as per your personal taste and convenience. If you are not sure as to what looks best on you, choose the medium sized ring with an ear attachment. For a more adorned piece, go for Marathi designs that are heavily embellished. Kumaoninathnis,are for a more dramatic look. Huge in terms of size,they are gorgeous.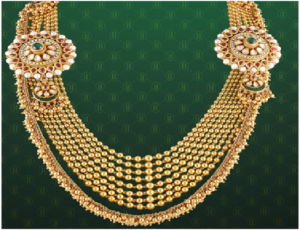 Tagdi: Nothing amplifies the grace of asaree than a waist belt crafted in gold. A quintessential jewellery item in South Indian weddings, it gives the bride an enhanced waistline and a deeply traditional look.
Neckpieces: Layers of necklaces in different sizes and crafted in antique gold are too magnificent to be overlooked. Look for designs that blend vintage with contemporary, and you will have eternal jewellery with you.
Mathapatti and Jhoomers: Maangtikkas or Mathapattis are an integral part of a bride's ensemble. Having a touch of splendour and a hint of regalia, these can be worn with any hairstyle. Besides, there are quite a few variants too- Bors, Jhumartikkas, and so on.
Choosing wisely can lead to beautiful memories etched in albums and family-lores, recorded for future generations to witness in print a union, beautiful and full of love.