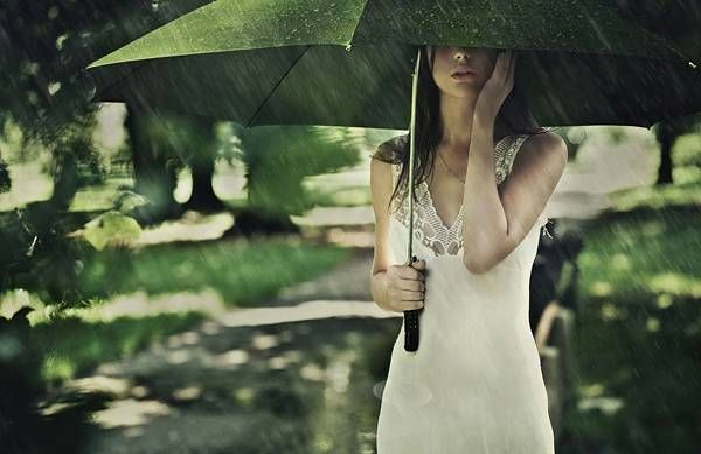 "Don't be angry on the rain; it simply does not know how to fall upwards".
                                                                                                                                  ~Vladamir Nabokov
There are those people who love to get drenched in the rain and then there are those who consistently think – how are we going to get out of the house. Monsoon in India last from June to September (approximately) and in these months, there are a lot of scenic things that transform for the good reasons. However, there are certain genres which also face problems when the rains hit the ground. And, one of them is certainly- FASHION.
Don't you all think about what to wear the moment you peep out of your window and find the gray clouds circling the sky? That's absolutely okay because what you wear to wear and how you carry yourself no matter if it's raining cats & dogs or hot dogs outside is the most important factor.
This write-up lights your path to what you can wear this monsoon season to look gorgeous and be prepped with the how to tackle the rains killing your look.
Raincoats
Can you do anything about saving your high-end Prada dress or a Calvin Klein dress from the pouring rain? Yes, you can! You can own a raincoat which is the monsoon-essential that you would need this season. Adopt a trench style raincoat that would not lessen the fashionable appeal of your look and would also safeguard your clothes from the muddy water pouring from the sky and also make your fashion quotient go classic.
Skirts – a yes and a no
Anything wavy and long below the waist can cause a lot of havoc by constantly allowing your feet to sway the dirt back on the clothes. Wrap- around skirts, flared fits and anything that goes below the calves would be a bad idea during the monsoon season. Rather, you can invest in Saint Laurent mini skirts, Calvin Klein pencil skirts, Dressberry options and other brands can be a great idea to keep yourself looking the way you want to without being a mess.
Invest in shorts
Crossing the puddles filled with dirty water wearing trousers can be a nightmare for a fashion-conscious person. You can't avoid walking for sure, so investing in something like shorts or knee-length pants would be a feasible idea. Why these? Because you can always clean your skin once you reach your destination, but cleaning the fabric with mud stains can be a task for you.
Coats or jackets
You can feel the chilly breeze (not always) while traveling to work or any other destination. Well, this is the right time to sport a fashionable Michael Kors trench coat or Tory Burch jackets would be something that would make you look complete and also warm on those slightly cooler days. Coats and jackets are surely a piece of clothing but serve as the high-end essential accessory that completes your look.
Footwear
If you are thinking of sporting those leather shoes with the dress on a monsoon evening, it is a bad idea for sure. It won't only harm the fabric of your footwear, it would also take more time than the others to dry off. What you need to invest in is gum boots or Crocs-styled shoes that leave you tension-free of drying them or being harmful to your feet as well. Other options include jelly shoes, flats, floaters and any other styles that abstain you from slipping as well.
Hair
For women, hair is probably the biggest concern when it starts pouring. Leaving them open would invite the frizzy feeling with a look that makes you feel like you've oiled your crowning glory. You must make sure that you tie up your hair in a clean bun, a ponytail or a classic braid to avoid this situation to occur.
Makeup
When you wear makeup in the monsoons, you end up looking like a negative character by the time you reach work. Avoid a lot of makeup when you leave from home. You can always depend on a BB creme and a light lipstick to pull off the look. And, once you're at work, you can apply anything that you want including the kajal, mascara and other cosmetics.
Accessories
I clearly mentioned above that accessories are necessary for you. For monsoon-friendly accessories, you can pick a big from designer bags like Burberry bags, Coach bags, Gucci bags and much more that can carry your stuff with you, a wristwatch, scarf, and anything that you think is necessary.
Be prepared for the monsoon and welcome it with some cheer!!